Content marketing is not a new fad or trend it is simply the evolution of digital marketing factors such as search engine optimisation (SEO), social media marketing (SMM), video, design and other visual media. Content is the source of every digital marketing campaign and strategy, without it you would not stand a chance against competitors utilising infographics, blog posts and email marketing.
One of the many advantages of digital marketing, is that even small businesses can become competitive. Getting the edge over your competitors is not as hard as it used to be. Being responsive and adding a human element to your brands appearance online will set you apart from those still employing more traditional methods such as television and newspaper advertising. The best thing about digital content marketing is that it is completely transparent and trackable. If you are you advertising in the local paper, Do you know how many people read or even looked at your advert? I doubt it, you have probably been quoted readership figures but these mean nothing.
I want to share 8 content marketing statistics for 2015 which may change your mind on how you promote and advertise your business.
1. ONLINE VIDEO WILL MAKE UP NEARLY 70% OF CONSUMER INTERNET TRAFFIC BY 2017
Online video is a continuing power source, which has seen incredible growth during the last 5 years. 2015 will see it become even more mainstream for businesses of all shapes and sizes. Video content provides the combination of visual and audio that is immediately engaging and human. Mobile viewing statistics continue to increase daily, which means online video content will reach more potential customers than ever before. (source)
2. 72% OF MARKETERS THINK THAT BRANDED CONTENT IS MORE EFFECTIVE THAN MAGAZINE ADVERTISEMENTS
More importantly 69% say its superior to direct mail and PR. Branded content undoubtedly rules online. With so much information and data available at our fingertips online , quality, well formed branded content will help you stand out from the crowd. Not everyone likes to be directly marketed at but they do want to interact and share relevant information from trusted sources. If you develop good quality branded content in 2015, you will be creating an easy way for new customers and leads to find you as well as be seen as a thought leader and go-to resource within your community and industry. (source)
3. B2B COMPANIES THAT BLOG GENERATE 67% MORE LEADS PER MONTH THAN THOSE WHO DO NOT BLOG
Do you have a blog for the sake of having a blog? A blog can be one of the most powerful elements within any content marketing strategy and the benefits go beyond thought leadership and engagement. A good blog will have a huge impact on lead generation. But simply building and launching a blog will not do. To get the most out of B2B blogging, requires planning, collaboration, and consistency. Without those elements, a good blog will quickly go bad. Make sure you update with fresh original content regularly and give your readers a reason to come back. If you have not published a blog for a few weeks or even months, your bounce rates are bound to be high. (source)
4. 37% OF MARKETERS SAY BLOGS ARE THE MOST VALUABLE TYPE OF CONTENT MARKETING
If you aren't already regularly posting blogs about industry relevant topics, you are losing significant online market share. Focusing on education in blog posts is a must, provide insight into your business and provide useful information that will benefit the reader. Blogs that fail often over promote themselves and continuously drive for sales. The more value you provide, the easier it is to promote interaction, customers will come back more frequently. This builds the kind of trust that will lead to a buying decision. (source)
5. THE AVERAGE RETURN ON AN EMAIL MARKETING INVESTMENT IS £29.14 FOR EVERY POUND SPENT
You will have probably read through various media outlets that email marketing is dead. Let me clarify, email marketing is NOT dead, and should without a doubt be included in any content marketing plans and campaigns. This is a huge return on marketing spend. Building quality email lists which can be segmented is the key towards engaging users, bringing them closer to a buying decision. (source)
6. 80% of internet users own a smartphone
Is your business and marketing mobile friendly? A recent Global Web Index report suggests that for the 40,000 Internet users they surveyed across 32 countries in the Americas, EMEA and Europe, 80% own a smartphone. This also suggests that 2015 will be the year they reach parity with PCs/laptops. This statistics alone shows how vital it is to provide content in various formats that suit the user. (source)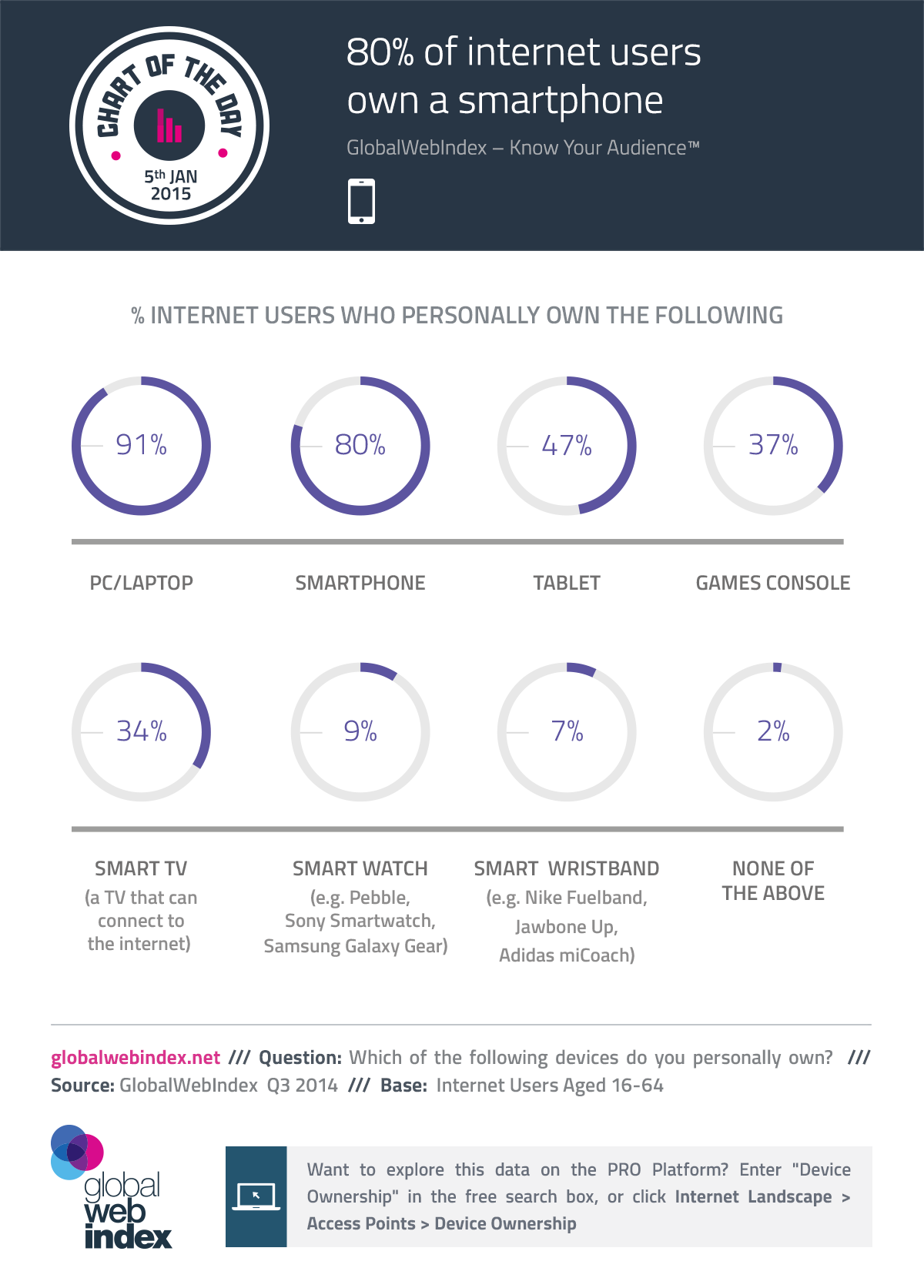 7. THE FASTEST GROWING DEMOGRAPHIC ON TWITTER IS THE 55–64 YEAR AGE BRACKET
The biggest obstacle we come across is the misconception that social media is for teenagers. Since 2012 55-64 year age bracket has grown 79% on Twitter. Social media is not just for teenagers, it forms a much bigger part of the content marketing mix than ever before and can really benefit any business look to grow in 2015. Matching your content to your key demographic will have a bigger ROI from social media.
8. 93% OF MARKETERS USE SOCIAL MEDIA FOR BUSINESS
This highlights how popular and important social media strategy is for business. It has become more important than ever to have a good, well planned presence on social media. Using it to benefit your brand awareness or improve customer service and retention is becoming more and more popular. (source)
Conclusion
Every business has different needs, however ultimately without advertising and promotion through content marketing in one form or another, you will be missing sales and leads. If you are not sure where to start or have a bad experience previously talk to our team, we live and breath content.
Have we missed a vital statistic that you feel is more important? Be sure to add your thoughts in the comments below.